"Zahriah Collins"

'
Character Information
Gender

Female

Age

age 7-8

Profession

Student,
Keiko Deity

Resides

Utica, NY

Family

Quider Pikney (Half-Brother)

Aliases

Ziggy (by Ron)

Likes

Kittens

Dislikes

Monsters

Series Information
Brand Location

Left Leg

Powers

Spellcasting

Portrayer
|Zahriah Collins is a little African american girl. She's feisty, and energetic among other things.
Appearance
Zahriah is African american with black hair. She likes to wear beads in her hair but sometimes wears it straight. She's about 3'1" tall, and skinny. She weighs average weight for kids her age.
Personality
Zahriah is silly and goofy, she likes to have fun with her peers and friends. She's overall happy but when she gets mad she'll give the person the silent treatment. She speaks what's on her mind.
Deity Brand
Zahriah's Keiko Deity brand is two upside down triangles with the point of the first one overlapping the second.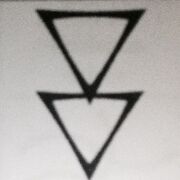 Powers & Abilities
Spellcasting: her only displayed power as of right now
Trivia
Her magic is Antique Fuchsia
Her signature move is spinning her right hand in a vertical circle.
She's an illegitimate child